Writing Life Three Ways:
Literature, Medicine, Archives,and the Experience of Hansen's Disease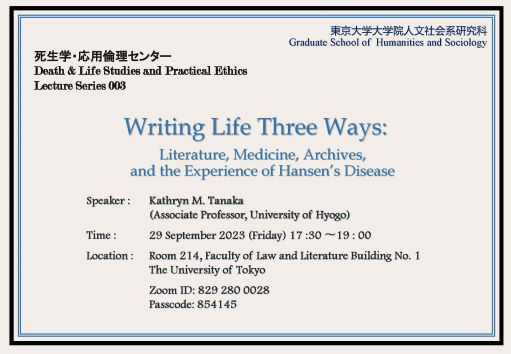 【日時】2023年9月29日(金)17:30-19:00

【会場】 東京大学本郷キャンパス 文学部法文1号館214教室

【オンライン会場】Zoom ID: 829 280 0028 (Passcode: 854145)

【参加について】参加無料・事前予約不要

【使用言語】英語(通訳なし)

【主催】東京大学大学院人文社会系研究科 死生学・応用倫理センター
【共催】東京大学 国際人文学プロジェクト
【助成】布施学術基金

※この講演会は布施学術基金により助成を受けています。
講師紹介 Speaker : Kathryn M. Tanaka(Associate Professor, University of Hyogo)
Kathryn M. Tanaka is an associate professor at the University of Hyogo whose research centers on Hansen's disease, Japanese literature. and gender. Her notable articles include "For the Purity of the Nation: Ogawa Masako and the Gendered Ethics of Spring on the Small Island (Kojima no haru)" published in the U.S.-Japan Women's Journal (2016) and "The Abject Woman and the Meaning of Illness in Kōda Rohan's 'Tai dokuro' (Encounter with a Skull)," Japanese Studies (2019), in addition to others. She is currently completing her first book manuscript, "The Gendered Experience of Hansen's Disease in Literature and Public Discourse." A second research project looks at Hansen's disease literature and the Japanese empire.
Abstract
In 1915, a recently married young woman from northern Japan was diagnosed with Hansen's disease, leading to a separation from her husband and subsequent hospitalization in Tokyo. There, she turned to writing poetry to make sense of a profoundly altered life and identity. This presentation examines the intersections of literature and illness within the Japanese sanatoria system through her poetry and silence. Her life and work allows us to trace the development and uses of a unique genre of Japanese literature that came to be known as "leprosy literature/Hansen's disease literature" (rai bungaku/Hansen-byō bungaku).

Although dozens of volumes of patient writing were published during the genre's peak popularity in the 1930s, the woman's poetry appeared in only two publications: first, she contributed a piece to a book entitled Confessions of the Lepers (Rai kanja no kokuhaku), published by the Home Ministry in 1923. After this, she was silent until the publication of a single poem attributed to Araya Kōga in a 1937 collection of patient writing. Araya's writing and her silence reveal the ways in which literature was both a coping mechanism and a response to medical and social attitudes toward the illness. In addition, Araya's story as retold by a medical doctor hints at how patient writing was deployed in leprosy relief campaigns. Finally, Araya's story as found in the medical archives provides an important example of the fluidity of medical quarantine, patient responses to illness, and autonomy. Araya's poetry, coupled with her story as told by archival sources and medical doctors, sheds light on the history of Hansen's disease and the creation and reception of a genre of "leprosy literature" in Japan in the 1930s. Fundamentally, Araya's story provides important insight into the way in which literature can complicate popular media and medical accounts of patient experience.